Tension Fabric Poster Dynamic Led Light Box
Tension Fabric Poster Dynamic Led Light Box
OEM

China

7-15days

1000pcs per month
Product Description:
LED strip with up-to-date controller,colorful and varied,brightening and darkening effect,high luminance,long life span,remarkable performance,excellent visul impact, 
ultra slim,stylish exterior,LED light source,energy-saving,eco-friendly,long life span.
1. Excellent dynamic perfornance,impressive advertising effect
2. LED light source,cource,coloful and stylish,eco-friendly and energy-saving
3. Have a wide range of application;can design words and pattern and many other displaying effects casually.
4. Low power consumption;dazzling even in daytime.
5. Easy to use,beautiful in appearance.Contrast of EL Flashing Light Box and LED dynamic leds signs.
Tension Fabric Poster Dynamic Led Light Box: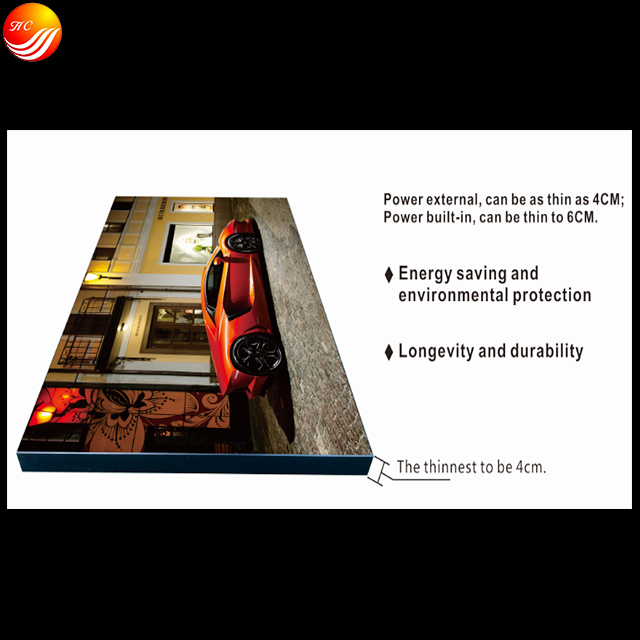 Features:
1. LED dynamic light box is a kind of advertisement light box which makes the original static posters have the effect of screen visual sense and the dynamic.
2. It is through the intensity of light and dark,alternately reflect to create dynamic effects after lnkjet above various characters,patterns.Forming a strong visual impact.
3. Visual Feast:Light effect art,Visual Impact,moving the pictures in the most convenient way.
4. DIY Effect:According the picture to DIY light effect,can be precisely controlled to a single lamp light,bright,dark.
5. Arbitrary change posters:LED dynamic light box that can Arbitrary change posters
6. Arbitrary Size:Modular design,can be assembled into any size,matching any light box
7. Super slim concept:If power supply outside,the thinnest of frame can do 4cm;If power supply inside,the thinnest of frame can do 6cm.
8. Energy saving and environmental protection:LED light inside,no light pollution,the maintenance costs of products are almost not have.
9. Longevity and durability:Low energy consumption(average power consumption is only 50W per square meter).Service life up to 10 years.
Product Details: