Small Advertising Display Snap Open Slim Light Box
Small Advertising Display Snap Open Slim Light Box
OEM

China

7-15days

3000 Pieces per Month
Advantages:
1. Front Load Easy Open:  Profile Durable Silver Satin anodized aluminum metal frame - Just snap open the front and change the picture with no need to take the frame down.
2. Freely: Can be hung in horizontal or landscape in accordance, display your advertisement in the shop or your favorite movie poster at home as well-mounting accessories included.
3. Protect Poster/Writing: PET covers the poster, keeping it clear to display and away from dirt, fingerprint and water.
4. Warranty: All products come with the installation instructions, simple and easy to use and 1 year manufacturer's warranty.
Small Advertising Display Snap Open Slim Light Box: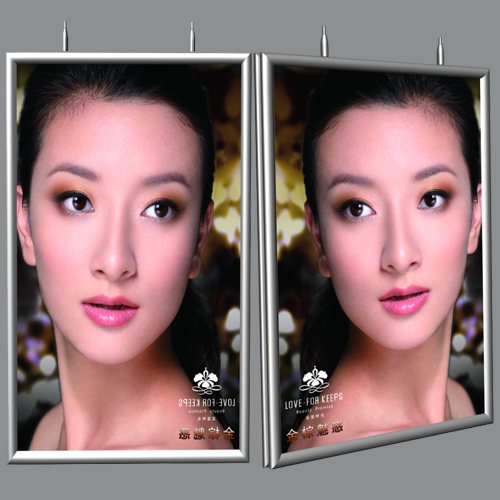 Application:
led light frame can be used in subway, Shopping mall,Super-market,Pub,Studio,Exhibition hall etc.They are good choice for advertisement and promotion.
Product Description:
1. 1.5cm Ultra-thin:
The thickness of the ultra-thin snap aluminum frame light box is only 1.5cm. It is used for all kinds of occasions. It is lighter in weight and convenient for installation.
2. High quality spring sheet:
The ultra-thin Snap Aluminum Frame light box is made of high quality steel shrapnel without deformation for 50 thousand times.
3. Perfect splicing:
Perfect 45 degree slant angle splicing, splicing slot is small, no burr, no sharp, safe and do not hurt your hands.
4. DC 12V Safety voltage:
DC 12V safety voltage, international universal round joint, maintenance and maintenance is more convenient
5. Easy to install:
Optional installation hook, strong bearing capacity, convenient installation of wall mounting.
6. High quality LED chips:
Using imported 2835 LED chip, 50 thousand hours quality assurance, compared with the traditional light box energy saving 80%
7. Easy to change the picture:
The design of the four side opening cover is convenient for opening the panel, changing the picture, and replacing a picture for less than 30 seconds.
8. Highlight uniformity:
Using 0.2W/ high power LED lamp, the backlight of A3 size center is more than 1200LUX, and the light guide plate uses 4MM laser to engrave the special light guide plate of ultra thin light box, and the backlight is more uniform, without dark area.
9. Three colors optional:
At present, our super thin snap aluminum frame light box is available in gold, silver and black, other else colors are ok to customize.
LED snap-on type light box

Material

Panel

New technical Light Guided Panel

Light source

High Brightness LED Strips 2835

Frame

Aluminum frame

Size

A0-A4 or Customized Size

Color

Black, white or any color available

Side

Sigle side or double sides

OEM & ODM

Available

Sample

Acceptable

Power Adapter

110V or 220V,optional for different countries

MOQ

1pcs
Product Parameter:
Model

Standard Size

Frame Size
(mm)

Thickness (mm)

Picture Size
(mm)

Power Supply
(V)

Gross Weight
(KGS)

3032

A0

1233*885

Thickness 30mm Cover Width 32mm

1189*841

DC12

15

A1

885*638

841*594

DC12

8

A2

638*464

594*420

DC12

4.3

A3

464*341

420*297

DC12

2.5

A4

341*254

297*210

DC12

2
Product Details: