Aluminum Snap On Open Slim LED Light Box
Aluminum Snap On Open Slim LED Light Box
OEM

China

7-15days

3000 Pieces per Month
Advantages:
1. Snap-on type,easy to change poster.
2. Using AAA grade imported acrylic,with 3D laser engraved technology.Ensure the LGP more uniformity and brightness.
3. Using top TV edgelit LED,brightness more than traditional.
4. Global original aluminum plate heat dissipation system,low light failure,long life.
5. With UV printing posters,ensure real color.
6. CRI(color rendering index)>80,to achieve liquid crystal color effect.
7. Mercury free,Green.
Aluminum Snap On Open Slim LED Light Box: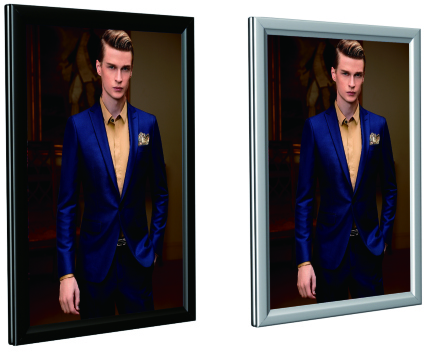 1. 1.5cm Ultra-thin:
The thickness of the ultra-thin snap aluminum frame light box is only 1.5cm. It is used for all kinds of occasions. It is lighter in weight and convenient for installation.
2. High quality spring sheet:
The ultra-thin Snap Aluminum Frame light box is made of high quality steel shrapnel without deformation for 50 thousand times.
3. Perfect splicing:
Perfect 45 degree slant angle splicing, splicing slot is small, no burr, no sharp, safe and do not hurt your hands.
4. DC 12V Safety voltage:
DC 12V safety voltage, international universal round joint, maintenance and maintenance is more convenient
5. Easy to install:
Optional installation hook, strong bearing capacity, convenient installation of wall mounting.
6. High quality LED chips:
Using imported 2835 LED chip, 50 thousand hours quality assurance, compared with the traditional light box energy saving 80%
7. Easy to change the picture:
The design of the four side opening cover is convenient for opening the panel, changing the picture, and replacing a picture for less than 30 seconds.
8. Highlight uniformity:
Using 0.2W/ high power LED lamp, the backlight of A3 size center is more than 1200LUX, and the light guide plate uses 4MM laser to engrave the special light guide plate of ultra thin light box, and the backlight is more uniform, without dark area.
9. Three colors optional:
At present, our super thin snap aluminum frame light box is available in gold, silver and black, other else colors are ok to customize.
Product Parameter:
Model

Standard Size

Frame Size
(mm)

Thickness (mm)

Picture Size
(mm)

Power Supply
(V)

Gross Weight
(KGS)

1521

A0

1209*861

Thickness 15mm Cover Width 21mm

1189*841

DC12

10

A1

861*614

841*594

DC12

5.5

A2

614*440

594*420

DC12

3.1

A3

440*317

420*297

DC12

1.9

A4

317*230

297*210

DC12

1.7
Product Description:
Material

Face: PS Sheet or Acrylic

Frame: Aluminium Alloy

Back: KT sheet or PVC sheet

Frame Color

Black,silver and can be customized

Emitted color

White,Red,Blue,Yellow,Green,Pink,purple,Named RBG Color

Output

12V

Warranty

1 year

Package

Air Bubble Film inside and wooden frame outside

Lead time

7-15 days

MOQ

1PCS
Product Details: